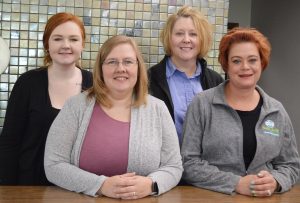 Scott
President and Loan Officer
Scott has been part of the bank since 1992 and President since 1998. He is a graduate of Schaller and started his college education at Cornell College and graduated from United Electronics Institute and Memphis State University. His work experience comes from working as an examiner with the Comptroller of the Currency and the IRS. He also worked as a Series 7 licensed investment broker. Scott has served on several local boards including 17 years on the City Council and 4 years on the School Board.
Scott is here to assist you in lending, farm management, trust and financial management.
Lorna
Vice President and Cashier
Lorna brings a wide range of experience in accounting to our team. She has more than 15 years of different accounting positions with multiple companies; manufacturing, a large law firm in Memphis as well as multiple accounting positions at a 200 store retail chain. Lorna grew up learning about and working in small family owned businesses. She started her college education at Ole Miss and graduated from Memphis State University. Lorna married Scott and moved to Schaller, they have 3 sons.
Lorna has been a director of the bank since 1998. She will assist you with your IRA, HSA or with any transaction processing questions you may have.
Katina
Customer Service Representative
Katina grew up around small business and management. Katina is a graduate of Aurelia High School and came to us from Best Western in Cherokee where she was the manager. Growing up in Aurelia, her parents were long-term owners of Aurelia Lumber. And, Katina was owner/operator of a local hardware store. She brings with her experience in business, management and significant knowledge of building materials.
Katina is here to assist you with your insurance needs working as an agent and as a Customer Service Representative.
Alexis
Loan Document Specialist and Customer Service Representative
Alexis is a recent graduate of the University of Iowa. Although she has only been with us since early February, Alexis has caught on very quickly. After graduation from Iowa, she returned to Early where she currently resides. Her long-term plans include returning to school to complete a Law Degree.
Alexis is here to assist you with your banking and lending needs.
Krista
Bank Customer Service Representative and Operations
Krista has been in banking since 2010 and came to us from an area bank. After growing up on a farm in Peterson and graduating from Sioux Central High School, she married Ryan in 2010 and moved to his hometown of Schaller where their son is a student at Ridge View.
Prior to banking, Krista gained experience through her work on the farm and in the family-owned convenience store. She will assist you with all your banking needs.  Please contact Krista with any transaction processing questions you may have.