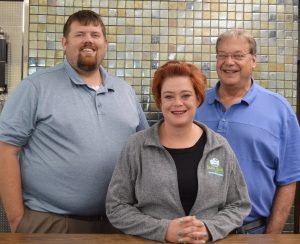 Chuck
Insurance Agency Manager
Chuck grew up in Schaller and is a 2008 Graduate of Schaller-Crestland. After graduation, Chuck was employed by Murphy Tractor in Fort Dodge and was sponsored in the John Deere Tech program at Southeast Community College. He worked as a Diesel Technician until 2016. In 2016 Chuck was hired as an instructor in the John Deere Tech program at Southeast Community College Milford, NE, where he was appointed to the Program Director position in 2019.
Chuck brings with him significant knowledge and experience with farming and many kinds of construction and agricultural equipment.
Katina
Customer Service Representative
Katina grew up around small business and management. Katina is a graduate of Aurelia High School and came to us from Best Western in Cherokee where she was the manager. Growing up in Aurelia, her parents were long-term owners of Aurelia Lumber. And, Katina was owner/operator of a local hardware store. She brings with her experience in business, management and significant knowledge of building materials.
Katina is here to assist you with your insurance needs working as an agent and as a Customer Service Representative.
Scott
President
Scott is a licensed agent and can be reached by phone or text at 712-299-1307 with any questions that arise after normal business hours.
*Insurance products are not FDIC insured, have no bank guarantee, are not a deposit, are not insured by any federal government agency, and may lose value.